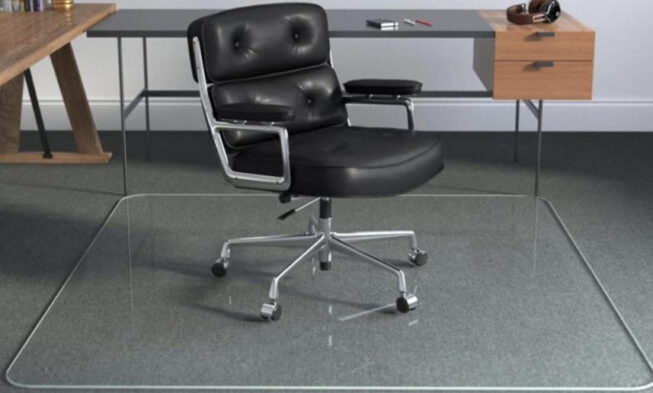 How To Choose The Perfect Custom Glass Chair Mat For Your Carpet
What if you can smoothly move your office chair just like floating on water? It will be a big relief for some people who are really pissed off from this hustle. If you have carpet, you may rest assured that you will no longer be trapped.
While attempting a hasty maneuver from one corner to another. One way to make your work time more productive is to invest in a glass chair mat. No hassle, no distractions! Hence, you can keep focusing on your work.
Highly transparent glass chair mats for carpets are flat, smooth, and non-slip mats that come in a variety of textures. Stick around and read on to know everything you need to know about custom glass chair mat for carpets.
Concept of Glass Chair Mat for Carpets?
Protect your hardwood floors, mats, and expensive carpets with a glass chair mat. These mats aren't crafted from regular panes of glass but from tempered glass. Which is significantly more robust, long-lasting, and four to five times stronger than standard glass.
You might have noticed that frequent chair harsh movements make floors awful. In order to save your floors or carpets from such damage, place a glass chair mat.
Benefits of a Glass Chair Mat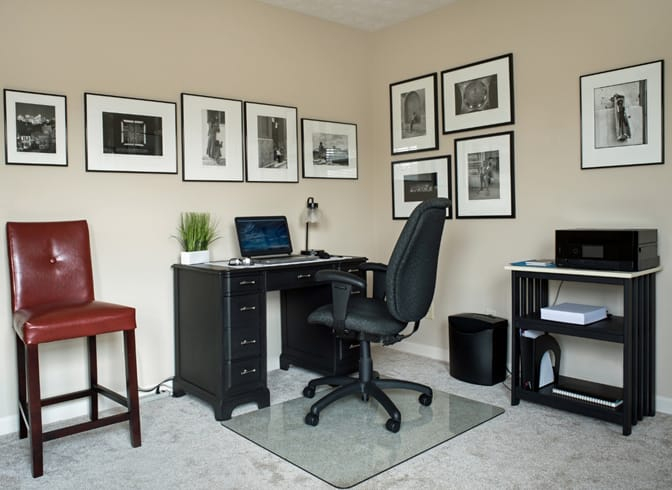 Protection Against Damages
A glass chair mat's primary function is to shield your expensive hardwood and another hard flooring from damage. With the help of these mats, you can move your chair easily and smoothly. Also, it protects floors from scratches, stains, and scuffs.
Luxury items such as glass floor mats. They cost more than mats made from other materials, but their durability is well worth the investment.
Unlike unattractive plastic or bamboo mats, they enhance the aesthetic value of your space. Also, these glass chair mats won't buckle after some time.
Because of their transparency, glass chair mats showcase the wood flooring beneath them. The minimalist aesthetic of your office will definitely increase its sales value.
If you find the idea of using plain glass mats uninteresting, you can choose from a bunch of designs. There is a wide range of hues and designs available, from clear glass to frosted to tinted.
Why Opt for Custom Cut?
A standard large square mat might not be the best option for some rooms. This can be due to the cubicle's size, layout, and the presence of extraneous furniture such as filing cabinets.
To ensure the mat fits securely in the available cubicle space, its design is crucial. Some business owners spend a little more on glass mats in a variety of sizes and shapes. Instead of being forced to adapt to a predetermined layout, you can experiment with a custom-cut glass chair mat for carpets.
How to Choose the Perfect Custom Glass Chair Mat for Your Carpet
First, analyze your floor type. Then look for a glass mat that won't scratch hard floors like hardwood, laminate, vinyl, or tile. Also, it will prevent the mat from sliding about.
Mats with tiny cleats provide traction without hurting the carpet. Glass chair mat is perfect even if your office is filled with laptops and other electronic gadgets.
Choose Shape, Size, and Style
Afterward, measure the area you need to be covered by the chair mat. Think about how much room there is to walk around. Also, how wide your desk is and how wide your chair's base is.
The common shape for chair mats is a rectangle. You can go for Square, rectangle, and round or oval mats. Or simply choose a custom cut option for your desired shape or size for a glass mat. You must take precise measurements!
A chair mat made of tempered glass will reveal the floor beneath it. These mats come in a wide variety of shapes and sizes along with flat polished surfaces.
Chair mats can be found in a variety of materials and price ranges. If you choose a custom cut option, you must know that various factors would affect the total cost. For example, glass type, size, color, polish, or finishing.
Buckle Up For a Sturdier Glass Mat!
Today's chair mats are more than just a decorative addition to your office. They're functional tools that will help you to pay more focus and get your work done more quickly. Chair mats are available in a variety of thicknesses, widths, and depths. All of which can be used to narrow your search.
Do you know the flooring that you have? Is it hardwood floors or carpeting? This is significant because it helps to select a perfect glass chair mat right according to your floors.