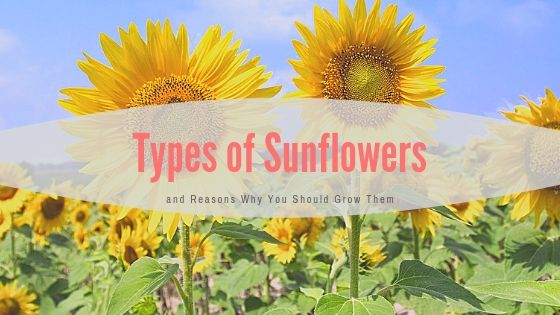 Different Types of Sunflowers Varieties (With Photo)
Sunflower is one of the most popular flower types in the world. Flowers that are identical to this summer have diverse shapes, ranging from big sunflowers, dwarf sunflowers, and colored sunflowers.
Historically, the sunflower originated in North America and began to be introduced to Europe in the 1500s.
In general, a sunflower is cultivated as a producer of food, where each sunflower can produce about 1000 seeds. The resulting seeds are usually used for salads, smoothies, bread stuffing, snacks, and many more.
In addition, the resulting seed can also be used to make sunflower oil which is usually used for cooking oil. Economically cheaper than olive oil.
As for the common sunflower type (Helianthus annuus) The seeds are usually used for bird feeding.
When you hear the word sunflower, what first appears in your mind? Tall, large, have hard fluffy stems as well as wide leaves. You are right.
In general, the sunflower can grow very quickly and have a lot of flower heads attached to the stem. Because it is very easy to grow, even when we do not want it, some people consider sunflower as a weed.
But there are also those that make sunflower as an ornamental plant in their private garden. There are some types of sunflowers that are usually used as ornamental plants, some of which we will discuss in this article.
Also florists use sunflowers to make bouquets and flower arrangements. You can find them in every shop. Almost every online flower shop has sunflowers in their catalog as well. That kind of service can organize flower delivery to Spain or wherever you want.
The sunflower comes from the genus Helianthus which is a direct translation of the words ' Flowers ' and ' sun ' or in Greek is called ' Helios '.
We did not know for sure why the sunflower was named like that.
Some people believe that Sunflower has similarities with the sun, both in terms of shape and color. While others believe that the sunflower is a ' heliotropes ' that moves according to the movement of the sun, the sunflower always wants to face the sun.
There are over 70 types of cultivars in the genus Sunflower. For easy identification, divided into 3 varieties of sunflower namely, giant sunflower, dwarf sunflower, and colored sunflowers. You can learn about the three types of sunflowers below.
Tall Sunflowers
Did you know that sunflowers can grow to heights of 16 feet? Because of their tall and stalky stems, they can grow to be several feet high.
Another of their amazing trait is that they can easily grow eight to 12 feet within only six months.
The Guinness world record for the tallest sunflower reached 30 feet and 1 inch, grown by Hans-Peter Schiffer in Karst, Nordrhein Westfalen, Germany.
Here is a list of the most popular types of sunflowers in the tall variety:
Russian Mammoth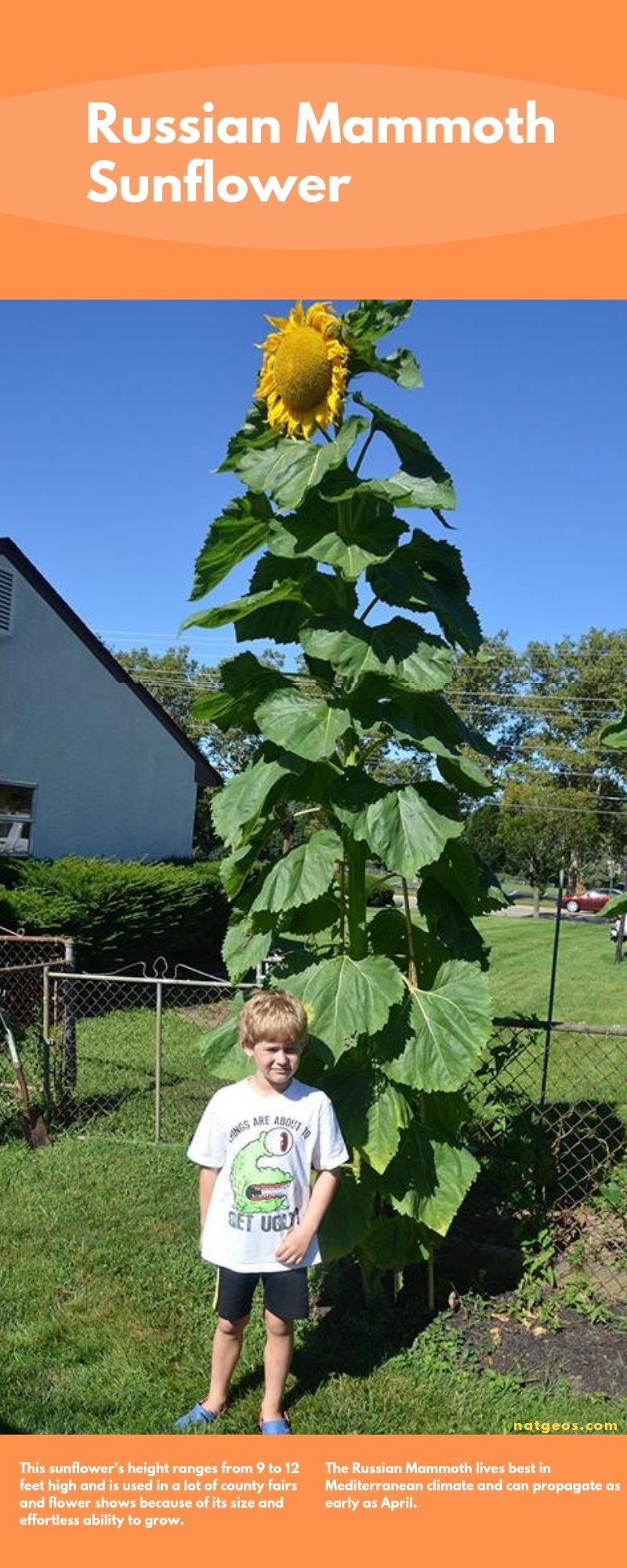 This sunflower can grow up to 12 feet height and is used in a lot of county fairs and flower shows because of its size and effortless ability to grow.
A giant sunflower variety known as ' Russian Mammoth ' belongs to the Common Sunflower category. As the name, Russian Mammoth has a huge flower size, which is about 20-30 cm with a golden yellow petal and a dark brown in the middle.
The sturdy stem supported charm of the Russian Mammoth Sunflower can attract the attention of birds, bees, and also butterflies. Therefore, this type of sunflower is perfect for you to use as an ornamental plant in your private garden.
In addition, the large seeds can also be harvested to serve as a snack or make as cooking oil.
Plant Information
| | |
| --- | --- |
| Common Name | Sunflower |
| Botanical Name | Helianthus annuus |
| Seed Life Cycle | Annual |
| Light Requirements | Full Sun, Half Sun / Half Shade |
| Bloom Time | Summer |
| Mature Height | 144-180″ tall (12-15 feet) |
| Wildflower Mix or Specie | Species |
| Ideal Region | Northeast, Southeast, Midwest, West, Southwest, Pacific Northwest |
| Zones | 1, 2, 3, 4, 5, 6, 7, 8, 9, 10 |
| Soil Type | Sandy Soil, Loamy Soil, Clay Soil, Drought/Dry Soil, Moist/Wet Soil |
| Soil Moisture | Dry, Average, Moist / Wet, Well Draining |
| Edible? | Yes |
| Advantages | Easy To Grow, Attract Butterflies, Attract Hummingbirds, Bee Friendly, Deer Resistant, Low Maintenance, Good For Cut Flowers, Great For Mass Plantings |
Schweinitz's Sunflower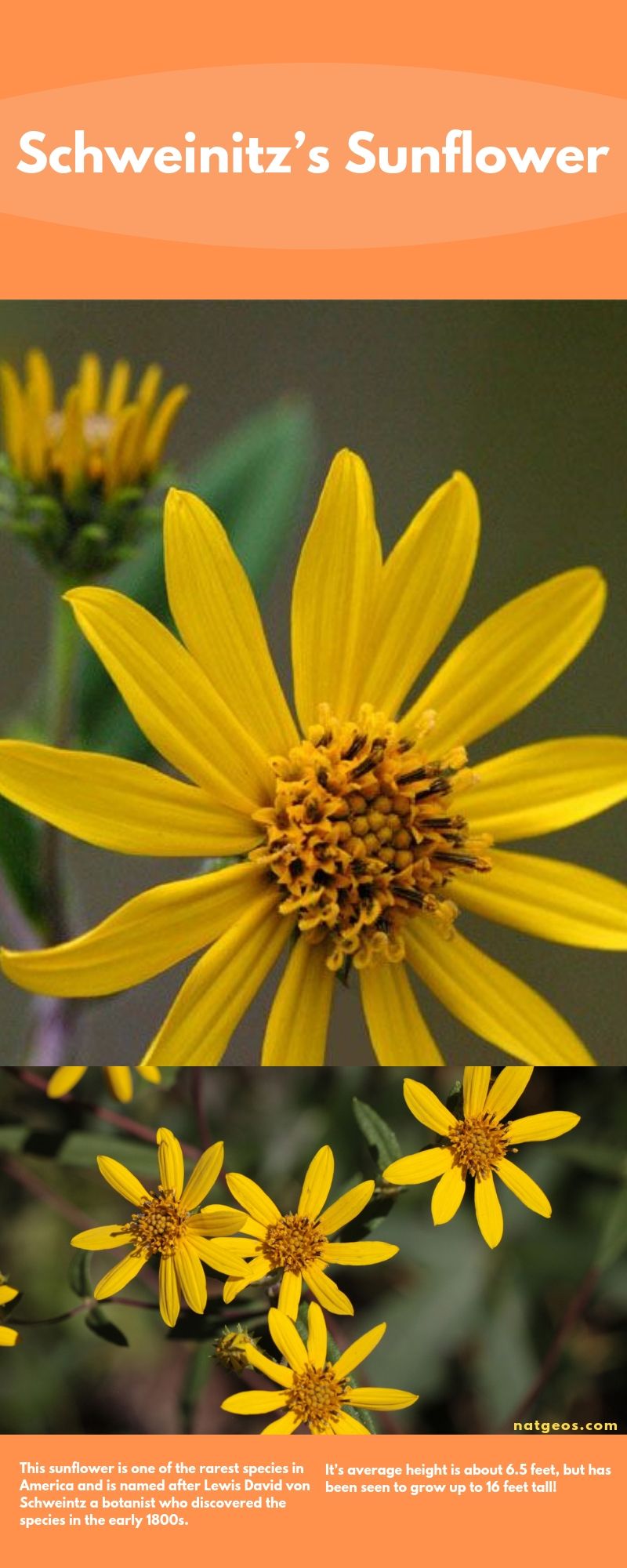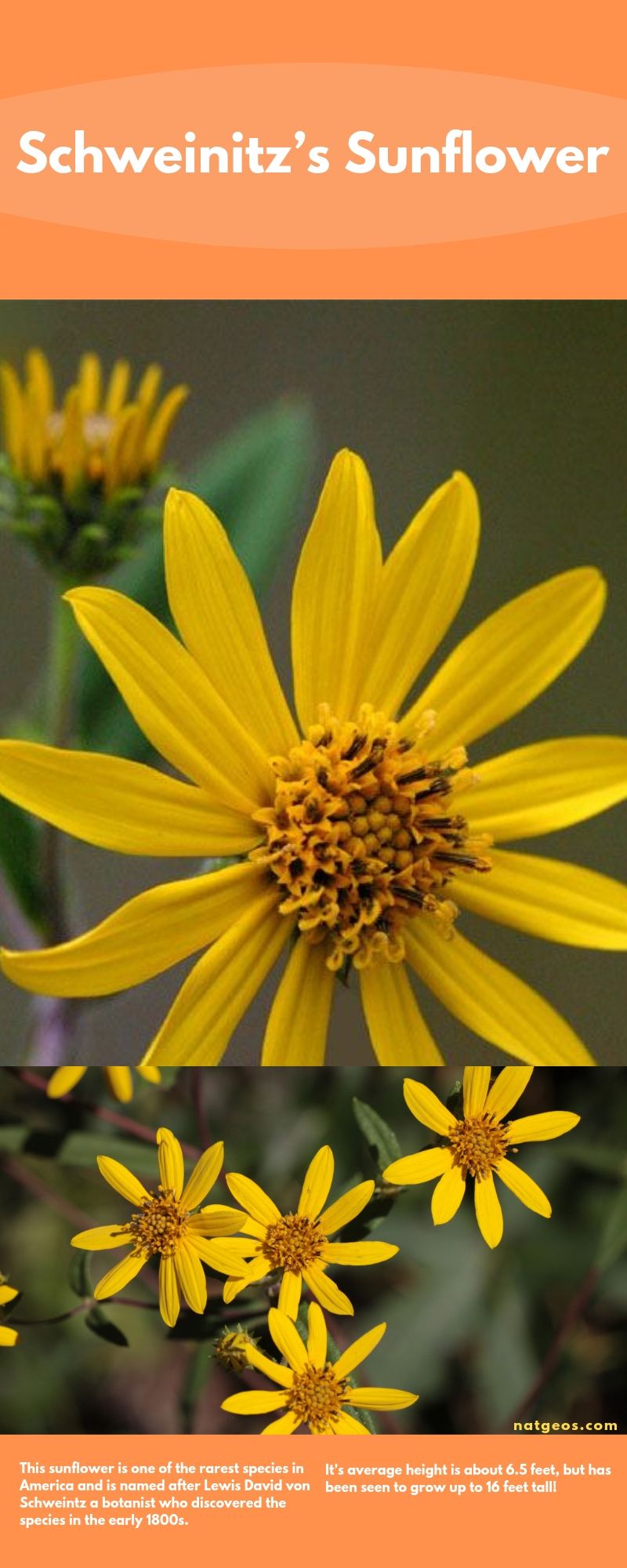 This sunflower species is one of the rarest in America. It has an average height of 6.5 feet, but can grow up to 16 feet tall!
Skyscraper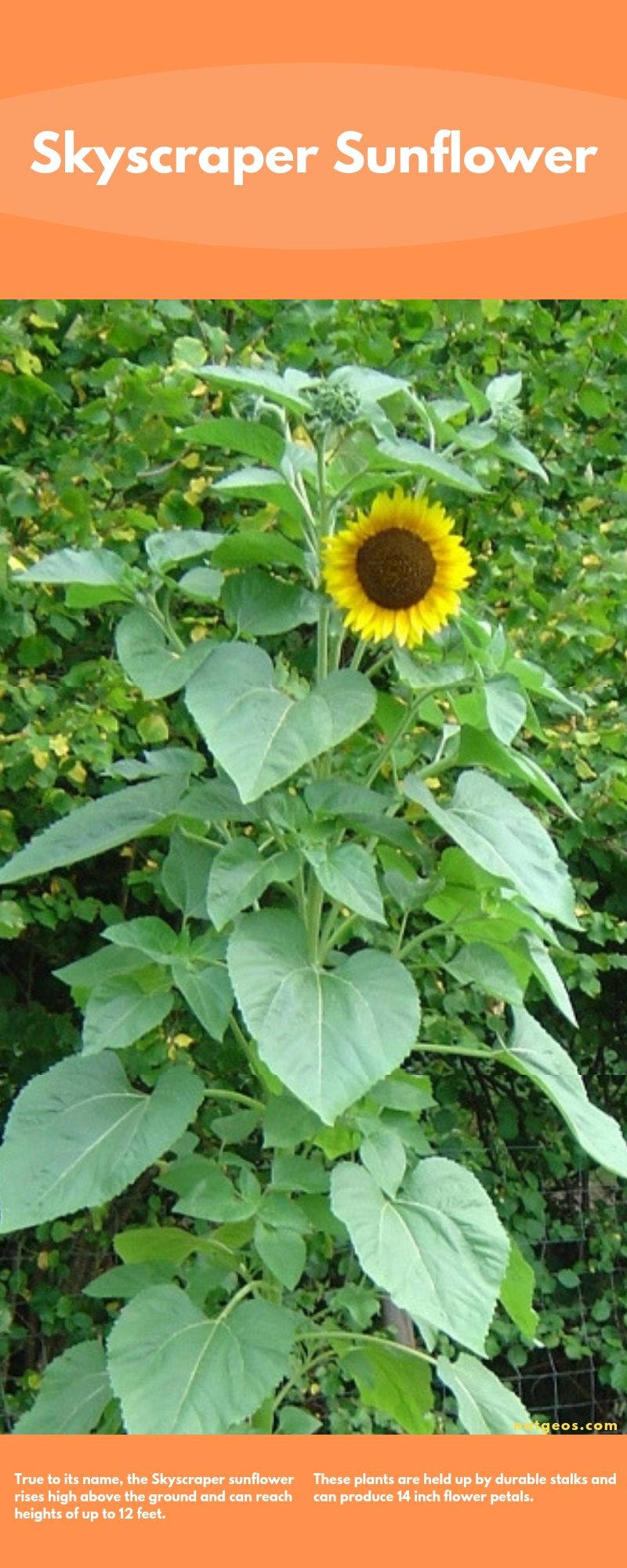 This sunflower can reach heights of up to 12 feet tall with 14 inch flower petals!
American Giant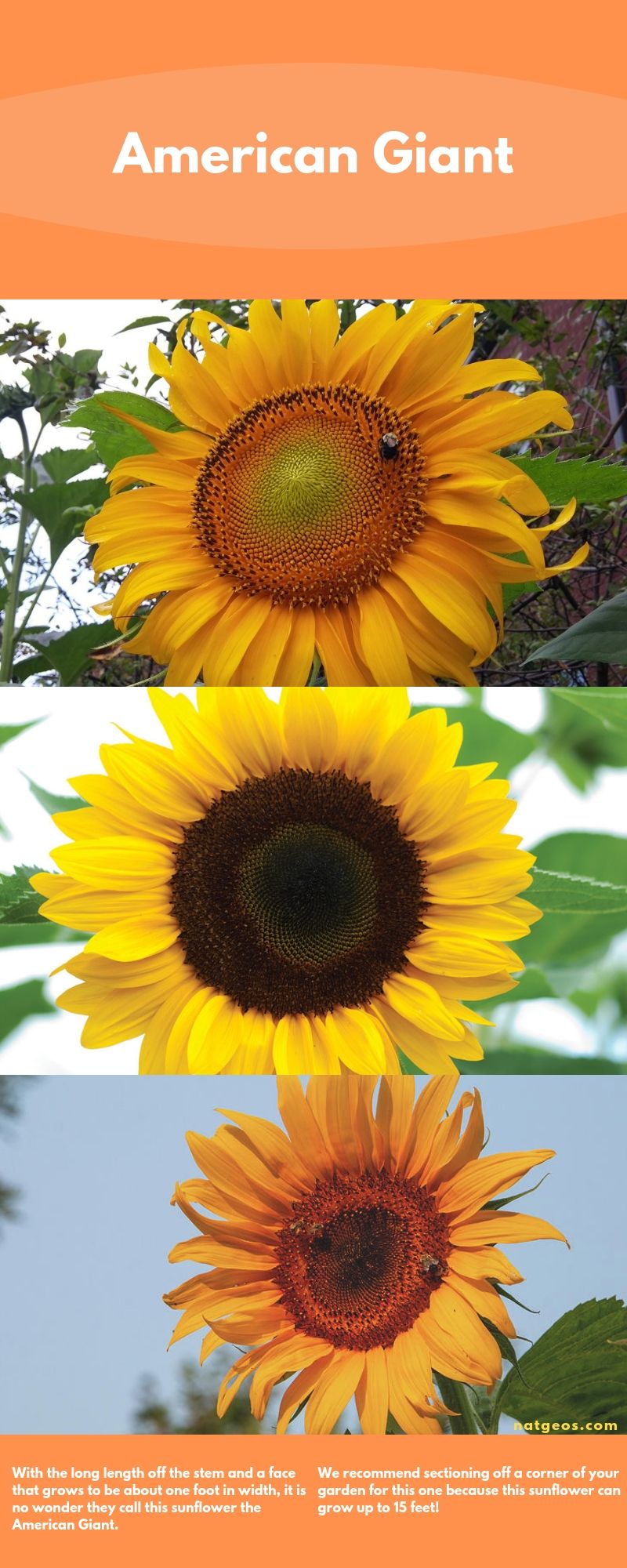 This sunflower's can reach maximum height at 15 feet and a face that grows to one foot in width, it is no wonder they call this one the American Giant.
Sunforest Mix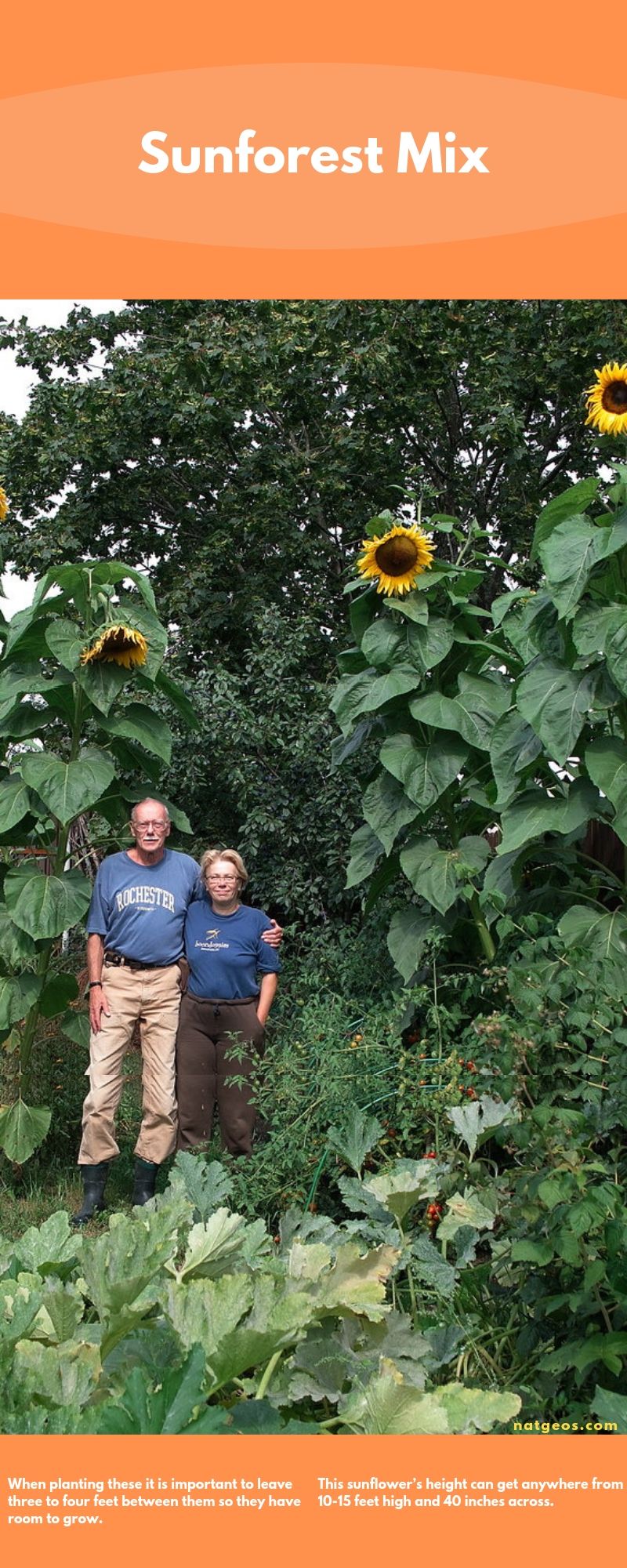 This sunflowers height can get anywhere between 10-15 feet high and 40 inches across.
Dwarf Sunflowers
Dwarf sunflowers are a type of sunflower that grows to heights of only three feet or smaller! They love to grow in gardens and look great in planters when placed in bunches.
Here is a list of the most popular sunflowers in the dwarf variety:
Suntastic Yellow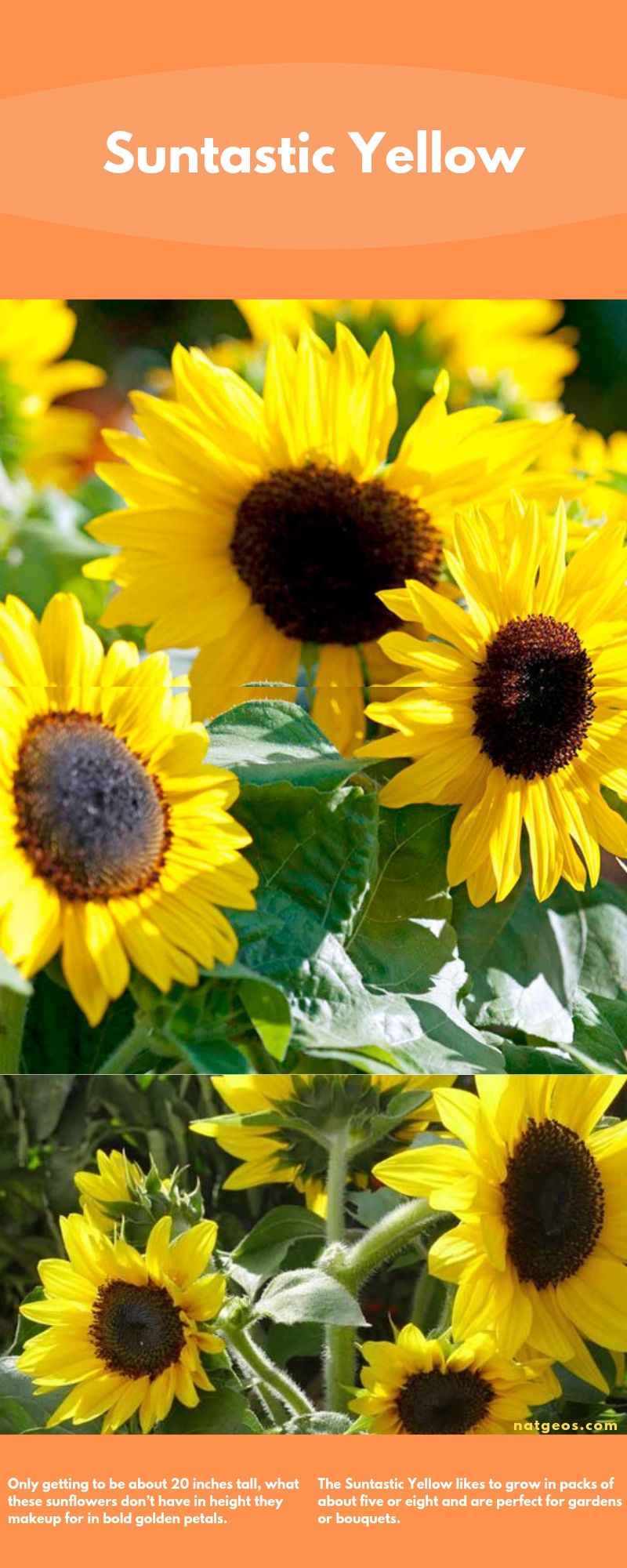 The Suntastic Yellow likes to grow in packs of about five or eight and grow to be only 20 inches tall. Perfect for bouquets or gardens.
Sunny Smile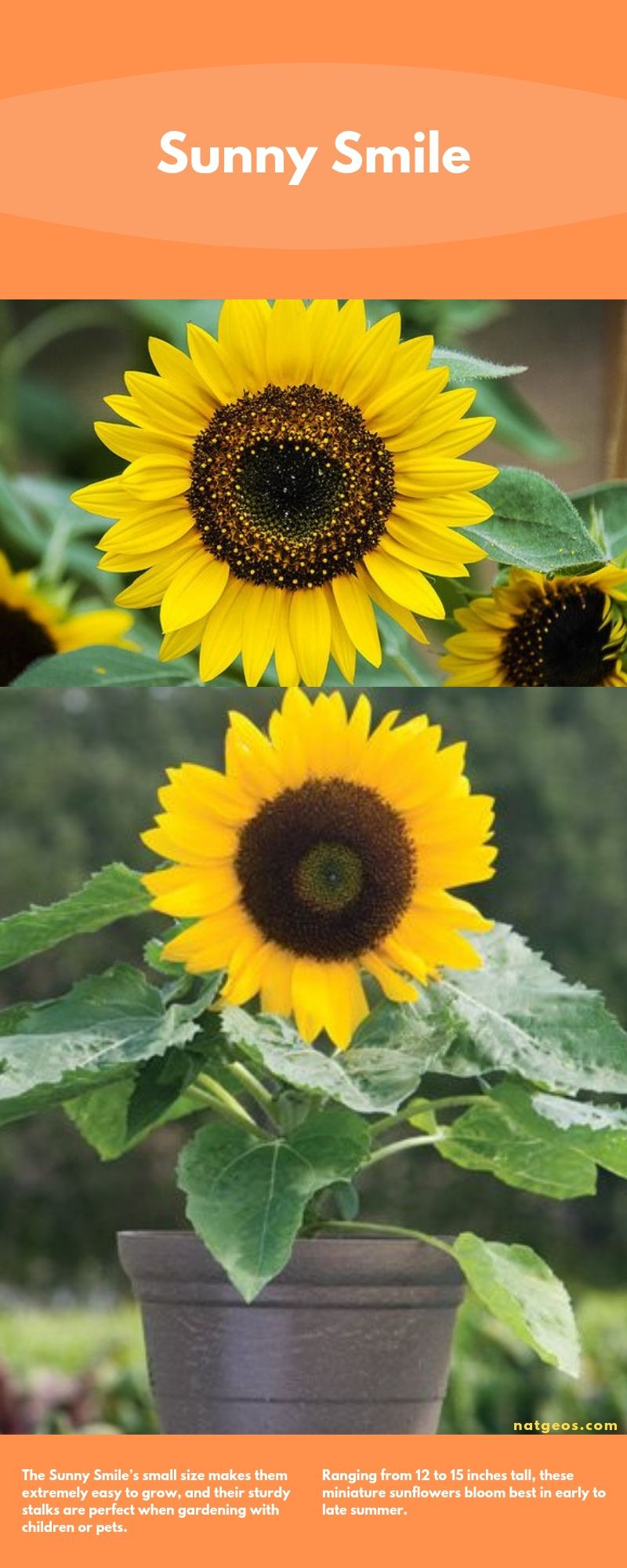 Ranging from 12 to 15 inches tall, the Sunny Smile has sturdy stalks that make them great when gardening with children or pets.
Sundance Kid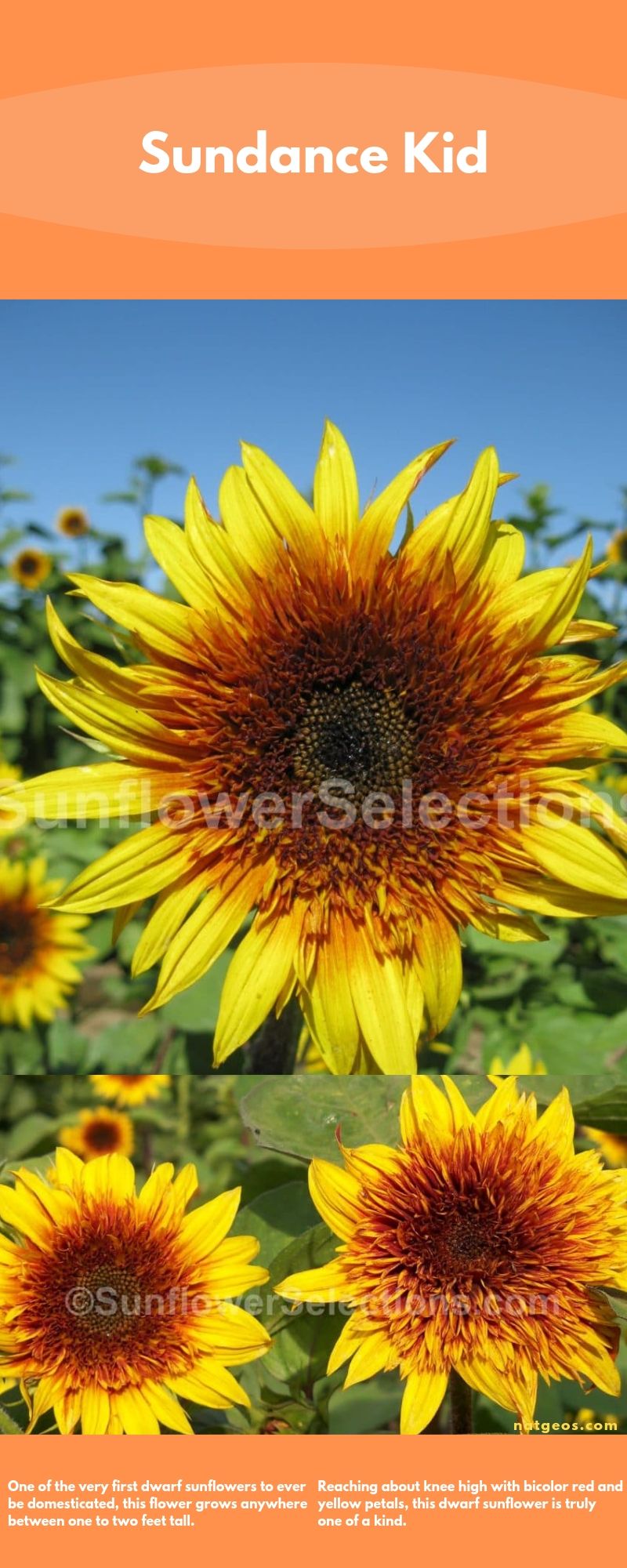 Sundance kid will produce double, yellow blooms with deep, rustic orange centers. Growing to a short height of only 1 to 2 fet tall, this sunflower will make a great addition to your low growing flower beds.
Makes an excellent cut flower for bouquets and floral arrangements as well.
Pacino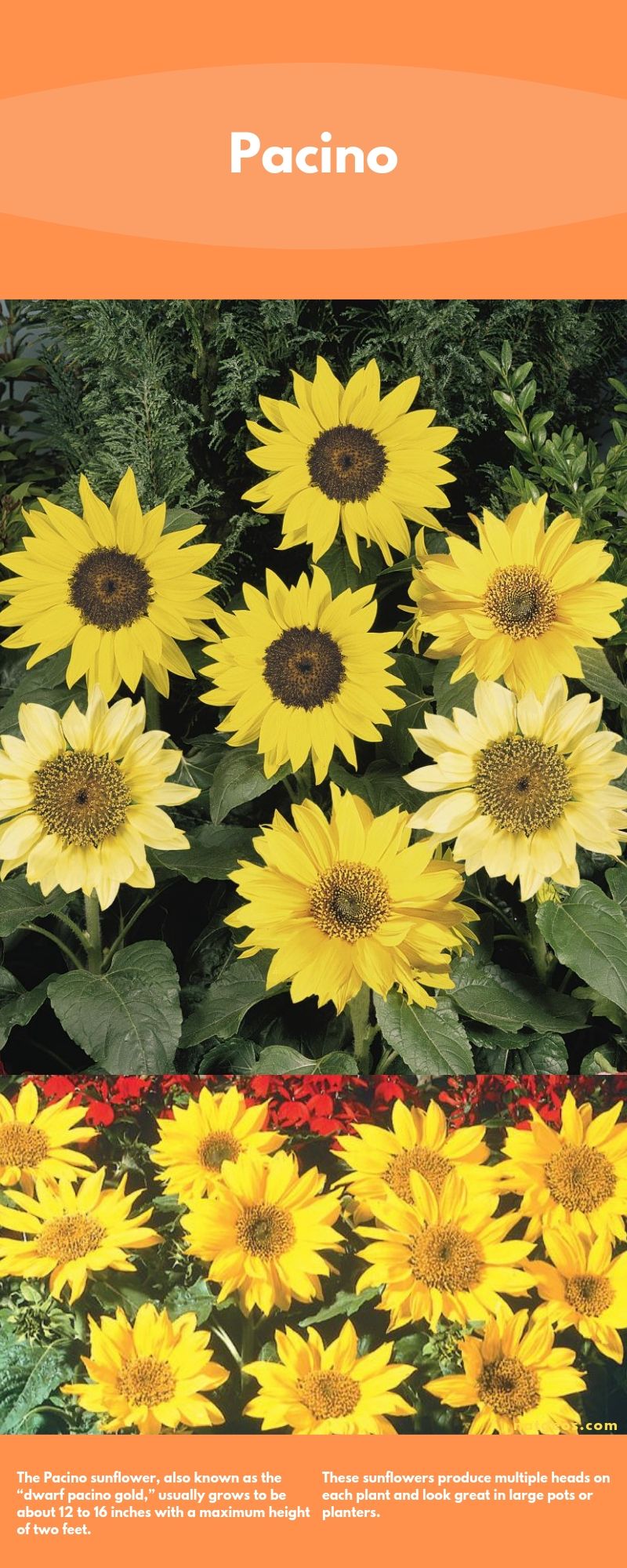 Also known as the "dwarf pacino gold," this sunflower usually grows to be about 12 to 16 inches with a maximum height of two feet.
Little Becka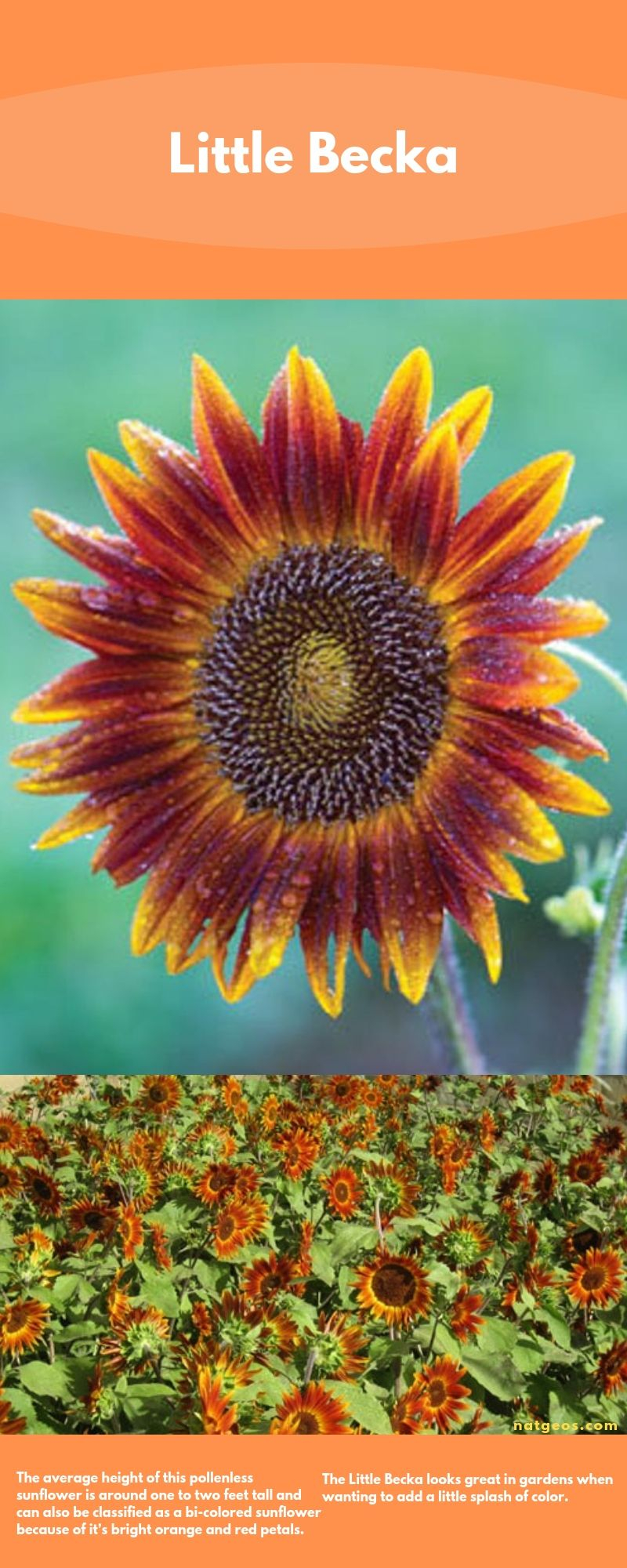 The average height of this sunflower between 1 to 2 feet high and looks great when wanting to add a splash of color to your garden.
Colored Sunflowers
Just when you thought sunflowers couldn't get anymore beautiful, they now come in a assortment of colors thanks to hybridizing.
You can now mix and match your favorite types and add splashes of color to your garden, patio or dining room table.
From creamy custard to deep red wine, here is a list of the most popular sunflowers of the colored variety:
Chianti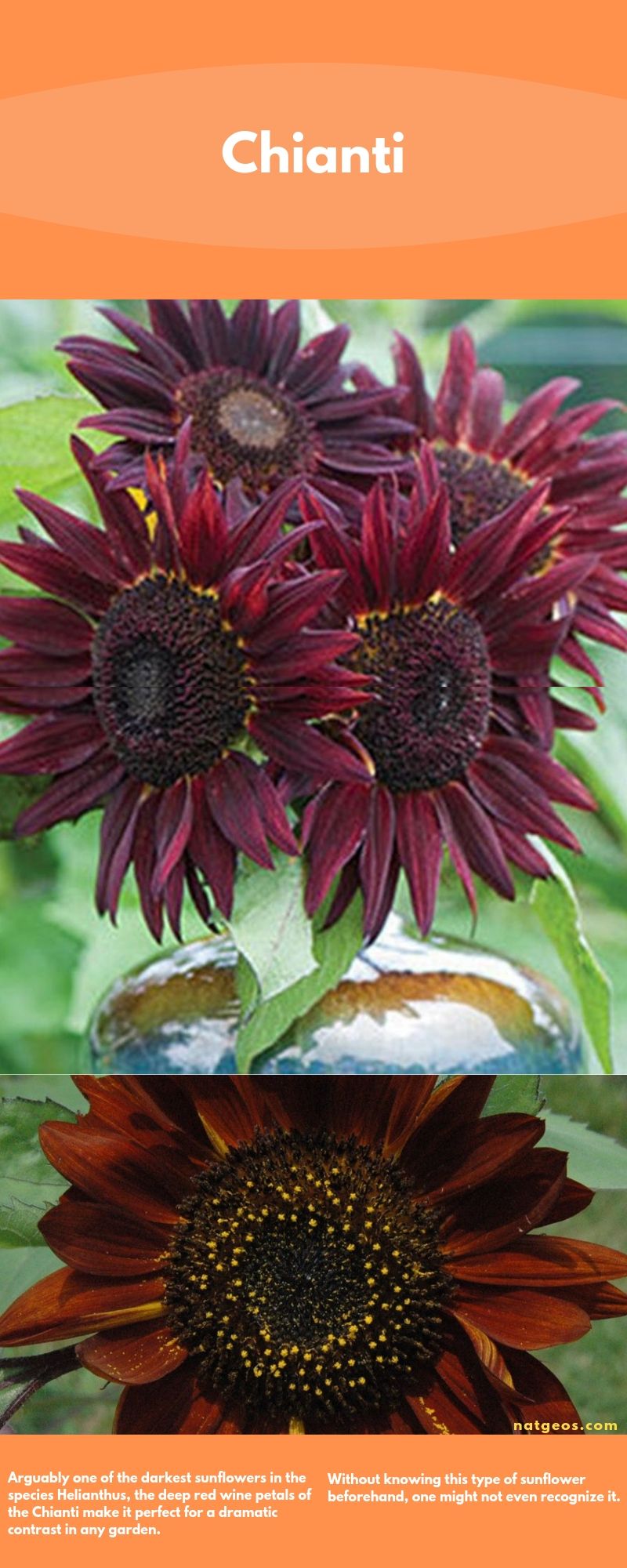 The Chianti is one of the darkest sunflowers because of the deep red wine color of its petals and face.
Moulin Rouge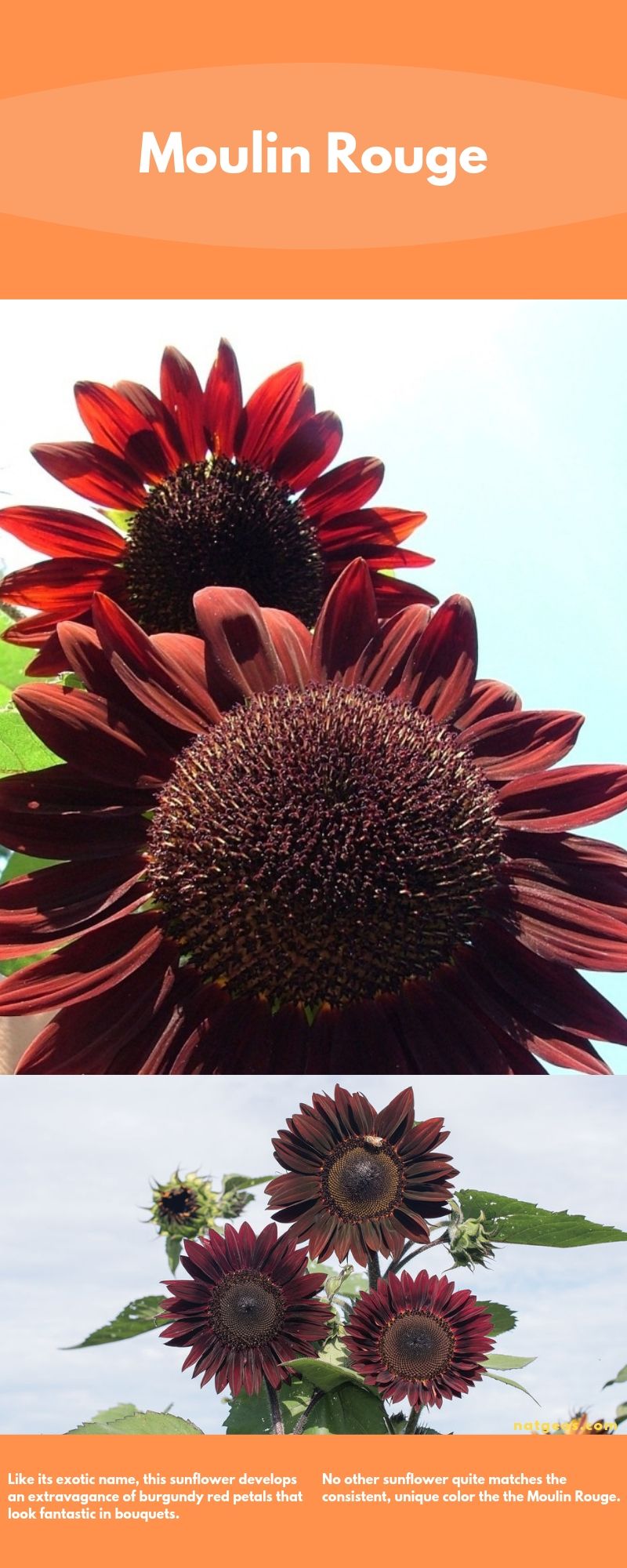 Arguably one of the most unique colored sunflowers because of its consistent color and extravagant burgundy red petals.
Earthwalker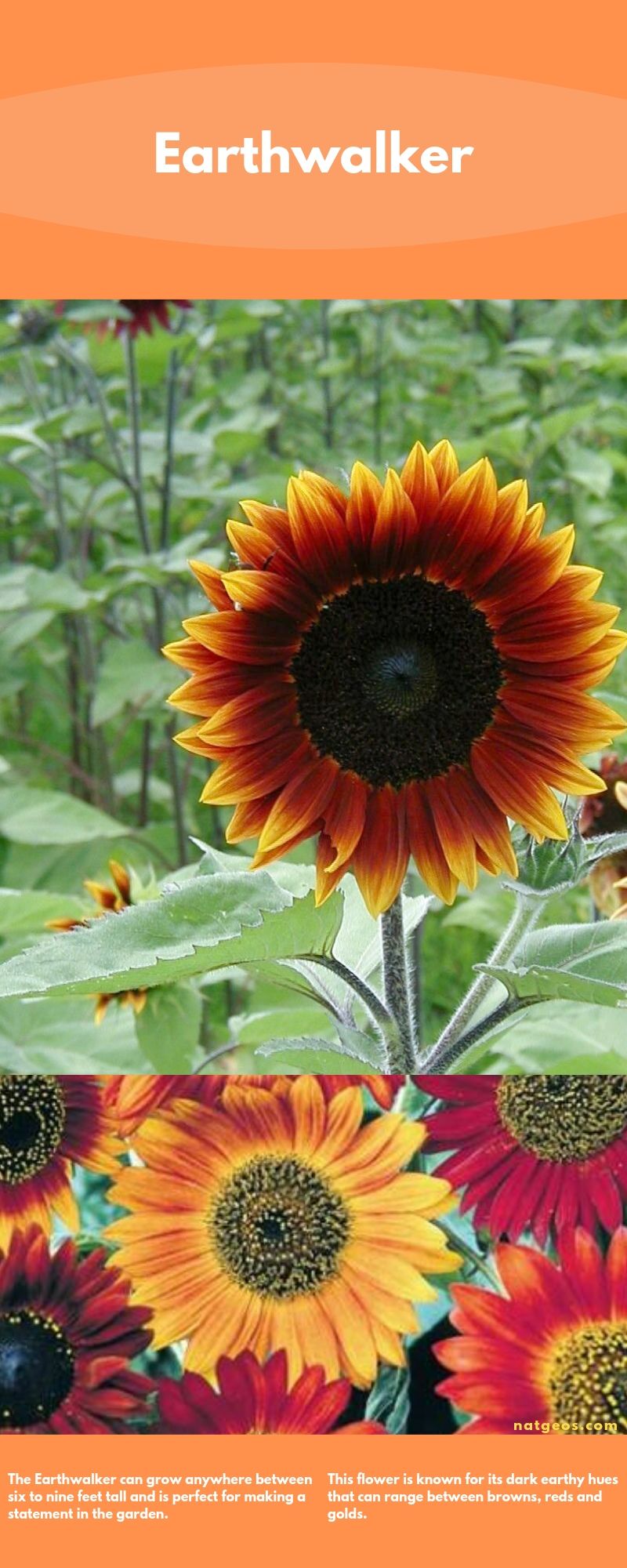 The Earthwalker possesses dark earthy hues that can range from golds and reds to browns.
Ms. Mars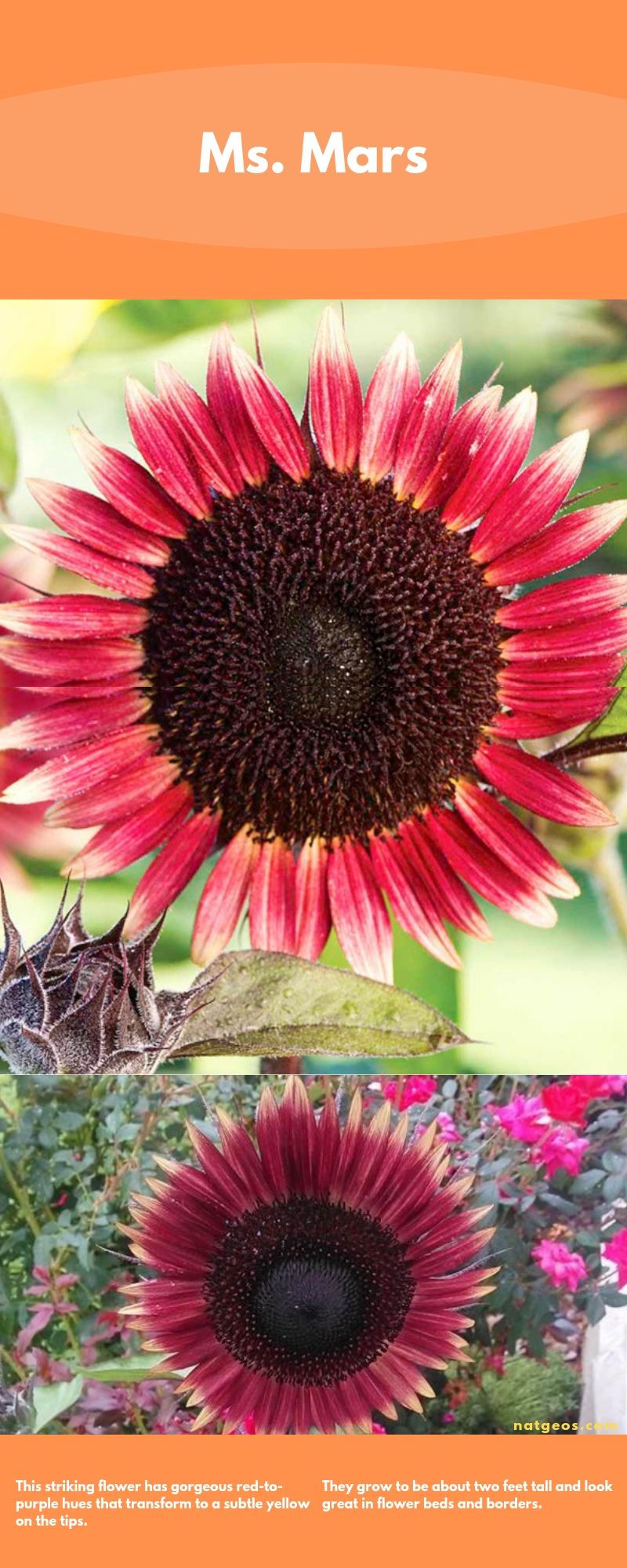 This gorgeous flower has red to purple hues that transform to subtle yellow on the tips.
Terracotta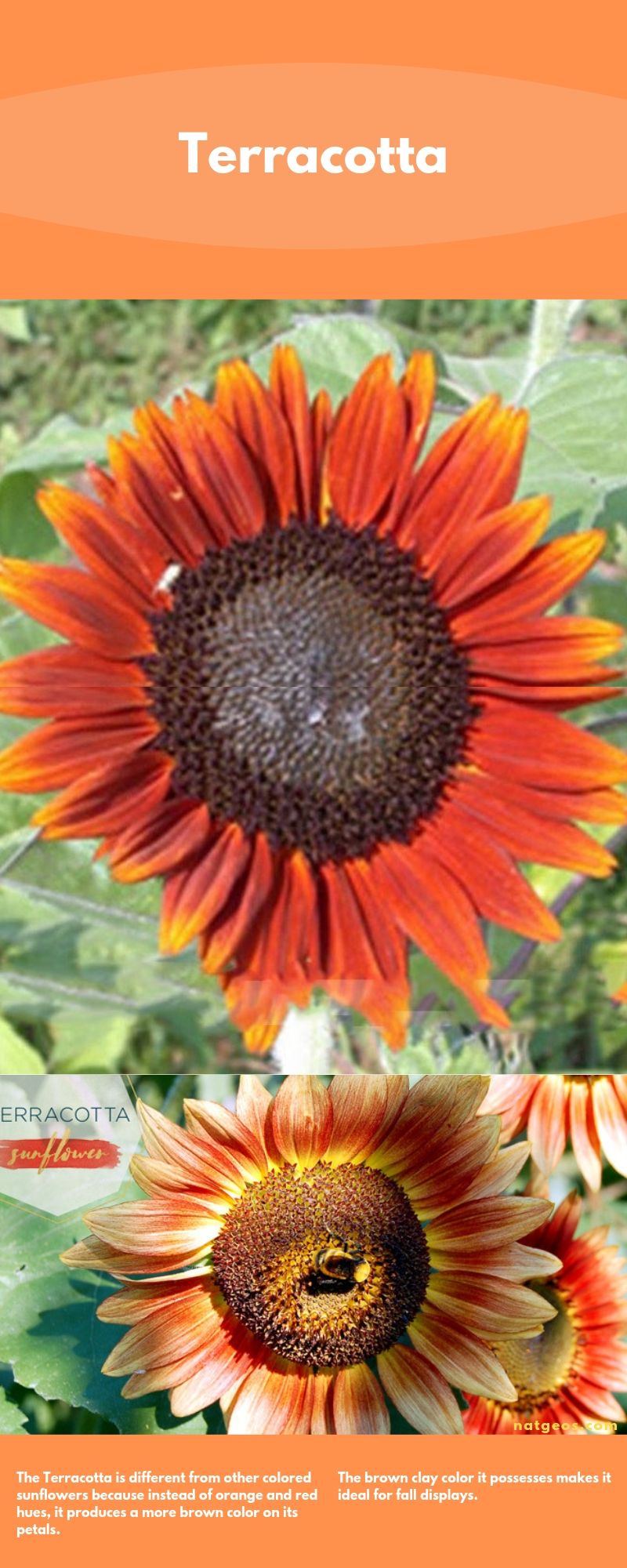 The Terracotta possesses more brown colors than other sunflowers which make it ideal for fall displays.
Most Popular Colored Sunflowers