Plastic water bottles scattered all around your home? It could be a sign to start a creative project with your kiddos. There are tons of water bottle crafts you can create from unused plastic bottles like flowers, rockets, and even monsters. This way, they won't end up in a garbage dump.
Recycling plastic bottles is a great way to show your commitment to protect the environment, not to mention it is a fun activity for kids of all ages. Start with collecting your water bottles and get yourself ready for these creative works.
1. Beautiful Plastic Dandelion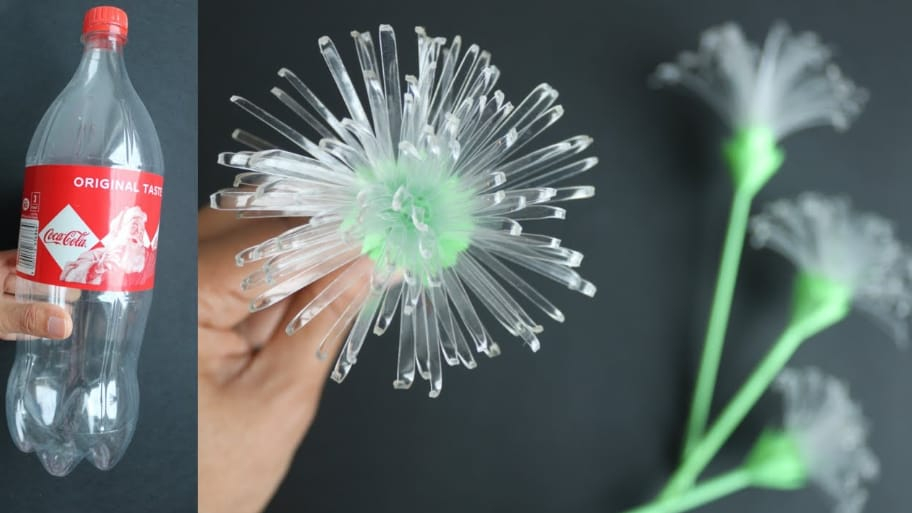 Plastic dandelions are an amazing artwork you can create using a plastic bottle. The blooms look beautiful with various colors depending on the plastic you use.
Put them together in a handmade flower vase and make these water bottle crafts a focal point in your living room or bedroom.
2. Huge Dotted Flower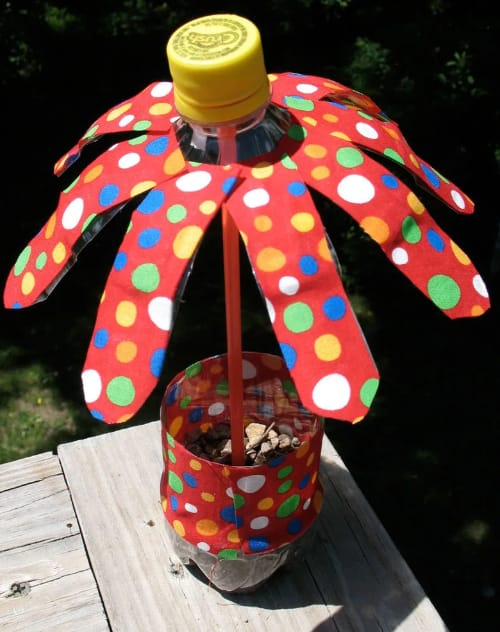 Perfect for summer activity, this huge plastic flower is quite simple to make. These plastic bottle craft ideas allow you to transform a water bottle into a pot and a flower, which means there is no waste after the project.
You can use both clear or colored plastic bottle. If you work with a clear one, use flannels with attractive pattern to make your flower and poot look more interesting.
3. Colorful Plastic Flower with Flannel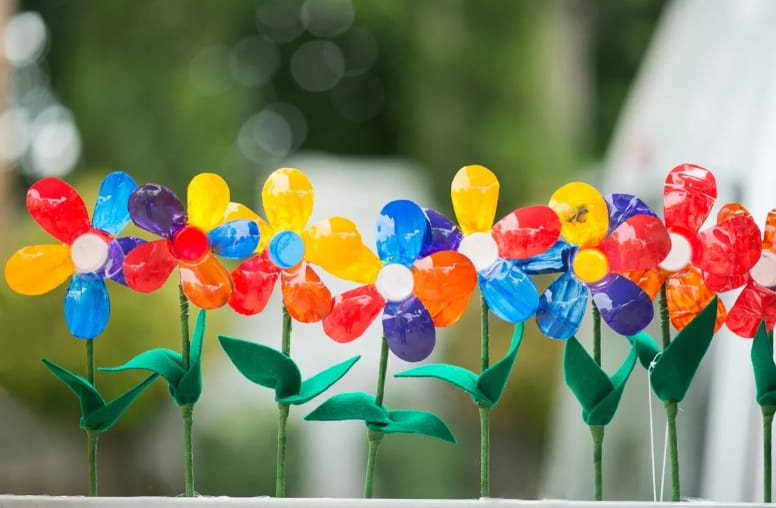 Your kindergarten kids will be excited to make these lovely plastic flowers. It has colorful petals that look attractive plus tiny leaves made from green flannel.
While you cut the plastic into small petals, ask your kiddos to paint them. Overall, these water bottle crafts are simple and easy to make.
4. Cute Rocket for Toddlers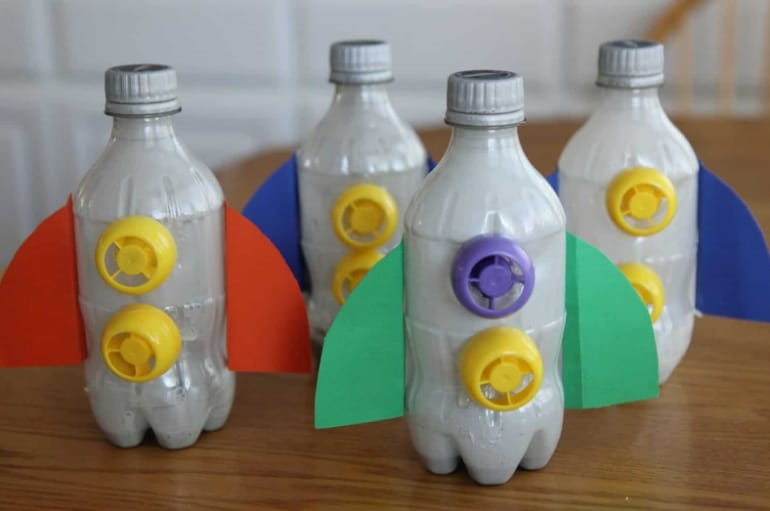 Help your toddlers build their very first rocket from plastic bottles! This project is great to improve creativity and boost their motoric skills without putting them on risks of cut. Simply paste and glue various accessories to the bottles and they will be available for playing.
5. Paint Art Your Water Bottle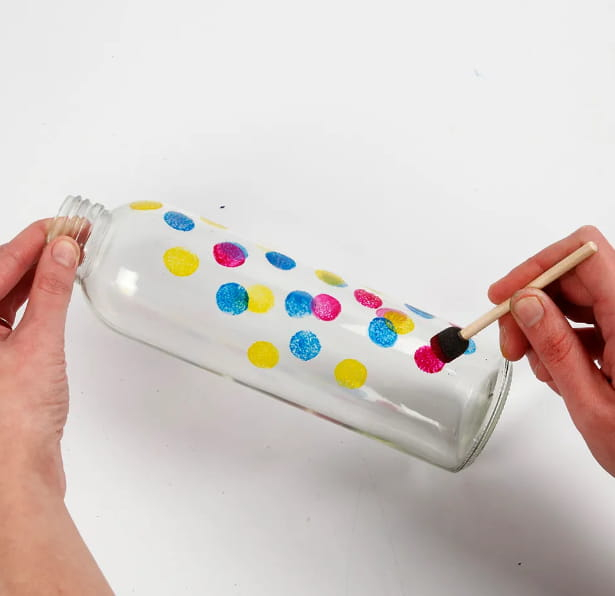 If you have a reusable water bottle and want to make a craft from it, this idea is just for you. Instead of cutting and transforming the bottle into a flower, pot, or pencil holder, you can give it a new look. Paint art the surface with a special paint to make it visually attractive.
6. Halloween Bottle Ghost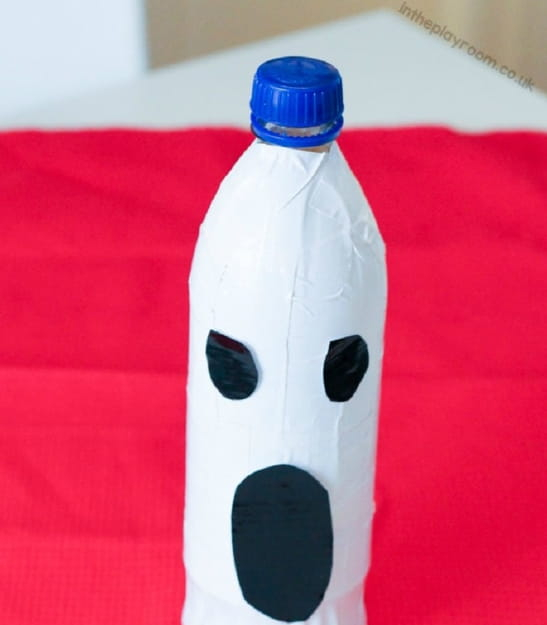 What about making a bottle ghost? This cute bottle ghost can be an additional ornament for the upcoming Halloween party. It is super easy to make with white and black fabrics. Alternatively, you can also cover the sidewalls with paper and give it the detail.
7. Mickey Mouse Plastic Pot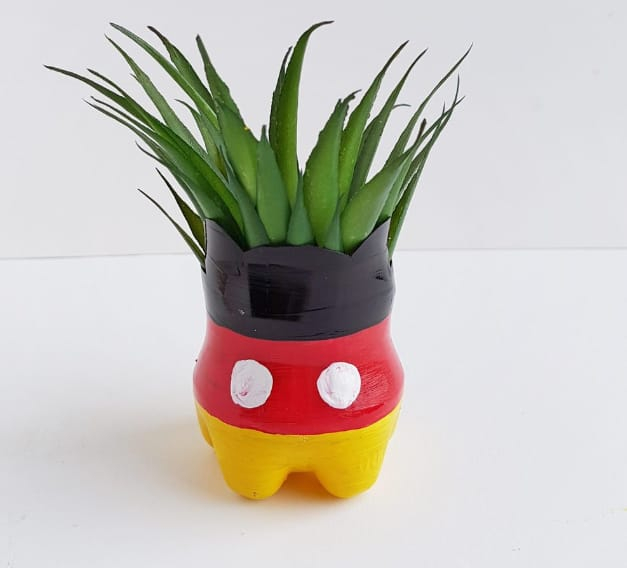 This water bottle project is for all Mickey Mouse lovers around the globe. Simply cut your bottles and paint it with Mickey's iconic pants and shoes—don't forget two buttons on the front. Interestingly, you can also make Minnie plastic pot to complement your collection.
Making crafts with water bottle is so much fun. There are so many ideas for water bottle crafts that you can copy for the upcoming project with your little ones from plastic flowers to pots.